Fearless Fighter by Vera Chirwa is an autobiography that teaches many about betrayal, leadership, and imprisonment during Dr. Hastings Kamuzu Banda's leadership. The biography gives us a glimpse of the man that was the first president of Malawi. It also gives a perfect insight into the fight against colonial rule that led to Malawi's Independence. It was important to review this book by Vera Chirwa, as a way to help us understand the history of Malawi and make sense of the chaos we are enduring now.
Reading through Political Prisoner 3/75 by Sam Mpasu gave us an insight into prison life during Banda's time. This autobiography, however, gives more detail on the politics before and after colonial rule. It also gave us a glimpse of the life of Orton Chirwa, who died in Banda's prisons in 1992, a year before Vera Chirwa's release from prison, and before Malawi's referendum.
Fearless Fighter by Vera Chirwa
The autobiography centers on betrayal, exile, imprisonment, and politics. It also spreads love, hope, and inspiration for a better nation. At most, you learn that she was taught to be a fighter from a young age, having been in a family filled with politicians. She was made conscious of the systematic and racial oppression that was taking place in the country. But to seal off her fight was when she met Orton Chirwa.
In the first chapter, the book makes us aware of the racial divide that was there in Malawi, then known as Nyasaland. We see examples when Orton Chirwa is publicly humiliated by a white man in front of his students at Domasi College which prompted him to pursue law. However, we also see an example of the racial divide when Vera was paid way less than her white counterparts in the Ministry of Lands.
From the first chapter, we already witness her strength as a woman. Having to take care of three children on her own while her husband was in London studying law. Her strength is one of the most important themes of the book.
Perhaps one of the most shocking moments of the book starts from the second chapter. When the Nyasaland African Congress planned on intensifying its fight against the Apartheid Federation. When Kamuzu Banda was approached to join the Congress by Masauko Chipembere and Kanyama Chiume in 1957. A condition he made was that he instantly be given the NAC's presidency without having to fairly contest. In 1958, when Banda arrived in Malawi, he was immediately made president. This precedent happened again when Orton Chirwa handed Kamuzu Banda the Malawi Congress Party presidency in 1960, a year after it was formed. Twice a mistake was repeated, and probably the worst mistake to have happened that caused the loss of lives of many, including Orton, and the imprisonment of many, including Vera Chirwa.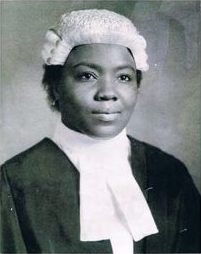 We learn about her journey in learning law and becoming the first female lawyer in Malawi. Her leadership skills during the introduction of the MCP Women's League. Her first imprisonment happened in 1959 during the first against colonial rule, before she was eventually imprisoned again during a free Malawi.
Her imprisonment during the Kamuzu Banda era is one intriguing story. Exiled due to Banda's greediness for power in 1964, the family settled in Tanzania. The exile came due to the cabinet crisis when Banda thought his cabinet ministers were conspiring to overthrow him as the president of the country. This resolved in ministers' cars being burnt to ashes by members of Malawi Young Pioneers. Ministers were forced to exile like Orton, those that were slow were found and murdered.
Unfortunately, in 1981, both Orton and Vera Chirwa were arrested on the outskirts of Zambia as they were traveling for a Malawi Freedom Movement (MAFREMO) meeting. MAFREMO was a movement founded by Orton Chirwa while in exile that worked on fighting Banda's dictatorship. They appeared before a Kangaroo Court in 1982 comprising of chiefs where they were charged for treason. They were both held at Zomba Maximum Prison, the last year they saw each other for a decade.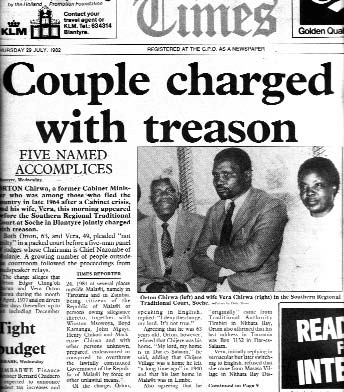 In October 1992, three months before his possible released, Orton Chirwa was found dead in his cell, a foul play. In January 1993, Vera Chirwa was released from prison and back to society. She since became a voice for women, fighting for women's and children's rights.
Perhaps the most astounding thing in the book was her forgiveness towards Kamuzu Banda. The very same man that was responsible for the death of her husband, her imprisonment, and the cruel treatment of many Malawians.
Lessons from Fearless Fighter
The biggest lesson from this book is the snake in sheep's skin. In 1957, the young Chipembere and Chiume sought help from Kamuzu Banda due to the need for a Father Figure to help spread NAC's ideologies. Again, he was trusted by Orton Chirwa himself with the MCP's presidency.
It is also easy to learn that Kamuzu Banda was not only power-hungry but was a proud and fearful man. His biggest fear was others being more popular than he was. Another of his fear was having a vice, fearing they would easily overthrow him. Many of those that were popularised as being his vice president were either exiled or imprisoned. A great example is Albert_Muwalo.
Another thing I figured while reading this book was that, while Mama Cecilia_Kadzamira is seen as the mother of the nation, such a title is best reserved for others like Vera or Rose Chiwambo who were at the forefront in the fight against colonial rule and dictatorial leadership.
Vera Chirwa is a strong and resilient woman, and this book makes one appreciates her fight for the country. It is unfortunate that such literature is not fed to a lot of children to help them understand the history of Malawi better.
What are your thoughts? Comment them down below.