When I created my first blog in 2019, I was very excited for the things I would share. At that point, I had no clue as to all the things that involved blogging. In 2020, I decided to go on the self-hosting route. This was my way of finding some freedom to do whatever I wanted with my site. It was also the time I decided I was going to take blogging seriously and make money from. But I had gaps and everyday felt like a failure. As I look back, I thought to share some of the 10 things I wish I knew before I started blogging.
Like I said, 2020 was the year I took the most hit. It was the year that I had made many plans but none materialized. As each day passed by, I felt my blog fail more and more. Something that a lot of people around me are unaware of.
I had a bubble in my head of how things were meant to go. But, reality was quick to strike and remind me that life happens. Many times I took blogging breaks. This was done either out of frustration, and on some days, the wish to just completely stop and maybe find something else to do. It was a painful reality. But, hopefully, writing these 10 things I wish I knew before I started blogging will be a learning point to anyone that is new to blogging, or want to grow.
These are the 10 things I wish I knew before I started blogging.
10 things I wish I knew before I started blogging
1. Monetization is not simple
One of the things I was excited about when I ventured into sel-hosting was monetizing my blog. I wanted the freedom to be able to have ads on my blog that would generate money. I was pumped about the affiliate programs I was going to join and possibly make money from.
This mostly derived from the different blogging groups I was in. I saw testimonies of so many bloggers who had made a $1000 or more from their first to second month of blogging. That led to me believing that I could possibly have the same odds.
Well, I was so damn wrong. Firstly, I took advise from people who had a different background than I do. I am a blogger from Africa. And Africa does not have the best odds on the web. Most of my readers are from the African continent, which generates a low income on most ad networks.
Secondly, I was getting no clicks on my affiliate links, making my dreams shut down even more. I felt like I was lied to, so although I kept trying, and still do, there was almost no hope from me there.
That made me realise how we need an ad network that would cater to the African content creators, but at the same time, how the western way of making money just does not apply here.
2. Set a clear plan
If you are going to monetize your blog, it is important that you take it as a business. As such, it is important to have a plan of events for your blog. That being said, I had no plan whatsoever.
I started my blog journey as a way of finding a new hobby. Plus, it was a way to share my writings and my poetry. Thus, I thought I was walk in, write and publish and then disappear.
However, I was quick to learn that if I wanted to be memorable, I was to write often and consistently. And this could only be achieved with a well set up plan that involves a blogging schedule. A well narrated plan that also clearly states the niche you are in and how to be good at it.
But after a while, I took inspiration from Nthanda Manduwi, who seems to have it all figured out. Having seen her properly monetize and make her blog a business that is successful.
3. Money has to pour out
Now this, this is what I was not so ready for. Because this is now a business, it has expenses that need to be paid for. Whether you make money or not. Even as a blogger who does it for free, there are costs that you need to offset, no matter how much you undervalue them.
I learned how to account for all the monies that was being poured into my blogging. The minute I started doing this, I wished I had stopped. But I knew I had to, to be aware of just how much was being spent to run the blog. It was a way of being accountable to myself.
These amounts include:
domain name purchasing
hosting costs
internet costs
promotion costs
plugin purchases etc
The investments are worth it if you want a smooth sailing blogging experience. And there are more. I made sure, however, to get a lot of free courses so that I was not overly spending on the money I did not have. And still do not have.
4. Invest in knowledge
Just when I thought I was done learning, there was more to read on. If you want to take this seriously, then be open to learning and more.
When you venture fully into blogging, you realise that there is a whole different world on the web that you are blind to. You have algorithms and SEO to learn, new promotional ways to discover and more.
I now spend more time learning about blogging, than I do writing. Because I have learned that in order for this baby to grow into what I envision for it, I need to have the adequate knowledge for it.
Some of the sites that have been beneficial are Neil Patel, Moz, and the many free courses by bloggers that I have stumbled on.
5. Connections are just as important in this industry
I once saw a tweet that said
Connections are more important than qualifications
And that is the same with the blogging world. You need to have connections to make sure that your blog grows. Like they say, no man can head a roof.
However, these connections are not quite the same as the ones you need in any other industry. These connections come in forms of Backlinks. These are links that link back to your website. Getting them is hard, in fact, it is a frustrating.
It is hard to have websites with high domain authority and page authority linking back to a new blogger. This remains one of the things I still struggle with, but slowly managing.
At the same time, it is important to have a community of like minded people who you can share ideas with and learn from. That is why I advise African bloggers or content creators to join the Afrobloggers community.
---
Also Read:
---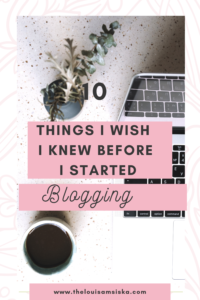 10 things I wish I knew before I started blogging
6. It is a game of numbers
I dislike my job because I constantly have to look at numbers, but I learned that running a blog is no different. A lot of bloggers that do it as a hobby could care less about the traffic flowing into their blog. But, those that make it for money know just how important huge traffic is.
This is not just any traffic by the way, but organic traffic from genuine readers who truly want to devour your content.
At the same time, good traffic numbers increases your domain authority and the authority of the page. Which helps with your overall ranking on different search engines.
Yeah, like I would have known that.
7. Make it a passion
This was the best advise I got from a blogging friend once. She said,
Don't blog because it is the it thing or because you see people making money out of it. Blog because it is your passion and it makes you happy.
When I started out, all I wanted to do was write. I did not care what I was to write about, I just knew that I wanted to fulfill my blogging appetite. However, I was everywhere.
My content did not have a proper identity, let alone cohesion. That is because I wanted to write about anything under the sun. Even things that I was not passionate about. A mistake most new bloggers make.
Find a niche that you are very passionate about, and stick to it. Do not wobble your way through, stick to that which gives you purpose.
8. Your answer is Guest Blogging
I am glad that this I learned way early. Guest blogging has been an answers to so many of my problems including during moments of writer's block.
Guest blogging allows you to tap into new viewers to your blog. At the same time, if you accommodate guest bloggers on your blog, you are able to keep it active and with a fresh voice.
9. Be open to feedback
It is a bitter pill to swallow when starting out, but very vital. Take into consideration all criticism that is givem to you. And use it to make improvements.
This is important because your early readers help set the pace. They give out expectations which helps you know how exactly to put out your content without compromising it.
10. Patience is virtue
I am an impatient person half of the time, but I was humbled. I had to learn to be patient and wait it out. This is just as important as any other in the 10 things I wish I knew before I started blogging. I have learned that blogging actually needs a lot of patience. And hope that it will all be better one day.
To conclude….
There is nothing as beautiful as sharing your thoughts and ideas on the internet and knowing that others will relate.
At the same time, blogging gives you the opportunity not only to share your thoughts, but to make connections. To sell products and services and grow your craft and skills. It gives you so much positivity which directly impacts your life.
However, it is not always roses. Sometimes, you encounter thorns. You need to be patient and your success will come through. Put in the work and slowly watch it grow to heights you wished for.
What are your thoughts on this 10 things I wish I knew before I started blogging? Comment down below. Also, be kind and share it on different social circles.