Dawn by Caroline Luka is a collection of poetry that can be seen as dark yet inspirational. A though provoking collection that allows one to go through different emotions. It is a collection perfect for those that are ready to face their fears and come out feeling better and brand new.
As a first published poetry collection by the author, Caroline made sure to connect to everyone who chooses to open and swift through the short book. The poetry are heavy with feeling, a hint that she writes from experience and as a way of offloading a burden. At the same time, as the collection progresses to the end, you tend to feel like both you and the author are growing together and helping one another go through it all.
The collection mostly takes form of free verse, epics and elegies. Bouncing from form to form which makes it a bit more intriguing and great. An idea that perhaps removes boredom. Some poem feel like a continuation of each other, while others are independently dependent on others for their emotions to be fully felt.
Although the poem made no divisions between the poems, one can easily make dimensions as they are reading. These dimensions are made based off of the how the poetry reads, and I'll explain the full review based on that.
Part 1: Fear
The first poems in the collection are mostly filled with fear. The fear of not being loved right, the fear of loss, fear of happiness. From the poems, one can easily devise that the author speaks from a lot of pain.
I wore pain as part of my skin
Perfectly blended with my melanin
Little did I know it would cause irritation
It's eating away all my magic
Some verses are blatant of the fear and the pain, while other are encouraging. As if asking the author to move on. Even the illustrations elude to the same. With some having a girl with their face down. This part closes off with a cliffhanger, as if asking readers to hold their breath longer because something might happen later on.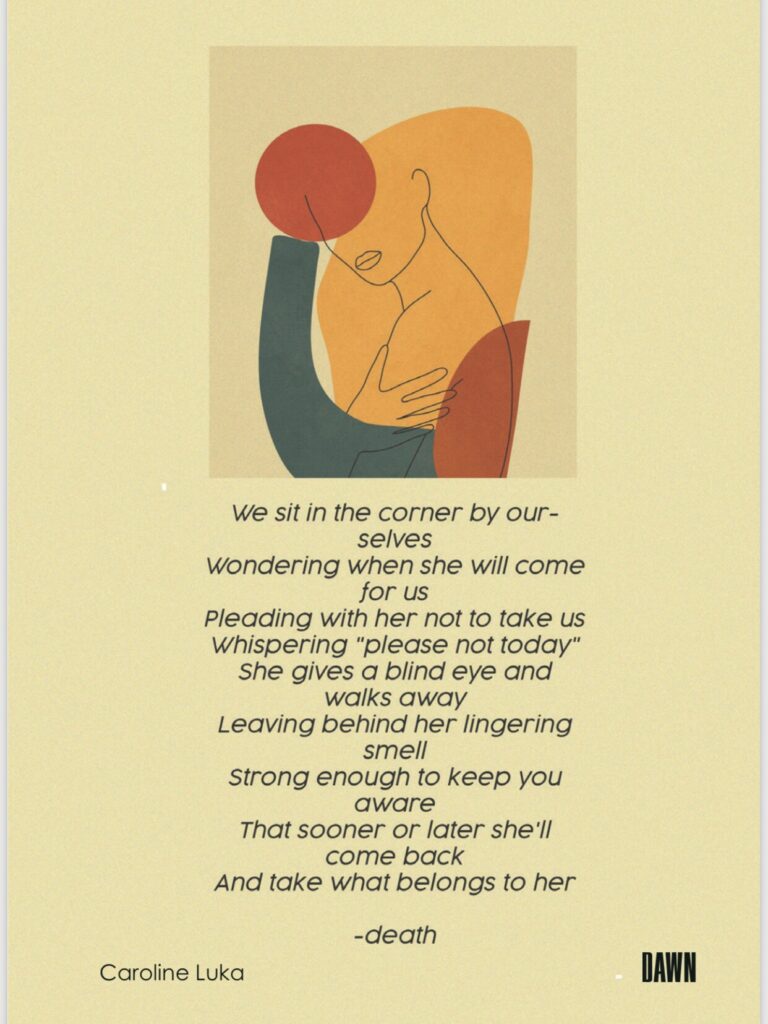 Part 2: Acceptance
Like I said, regardless of the book having actual division of parts, it is easy to draw lines. The second pieces of poetry show the author accepting what has taken place. She pens them in a way for her readers to understand that she has come to terms with what has happened and is trying to find better days.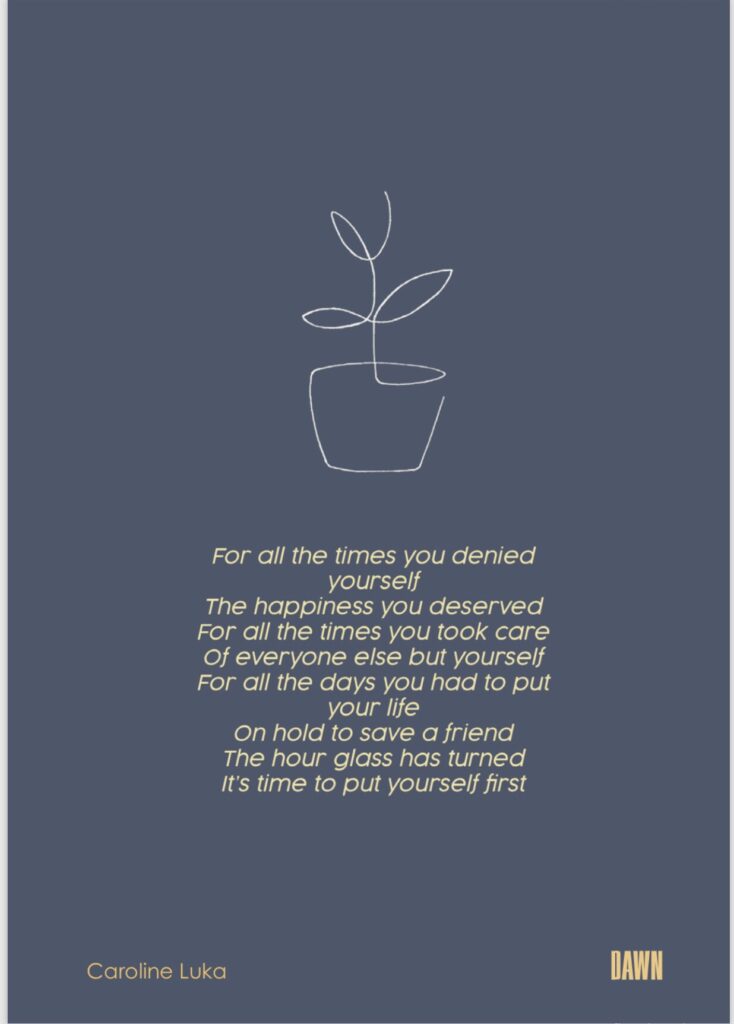 However, regardless of the acceptance, she still sneaks in poems that still show that she is scared of what's to come. Which somehow transfers to everyone that reads. She is able to address other issues too. She starts off by addressing men, those that have made her feel insignificant and her body, they have preyed on.
This part, she is more expressive about a lot of injustices she and those closest to her have gone through. Again, which makes it a lot relatable because these are all things that a lot of girls and women, especially African women go through.
The most important of this part is that she forgives herself, allowing herself to hurt and yet start her healing journey.
Part 3: Dawn
I chose to name the last part Dawn because the poetry in this section are are hope. Dawn is the hope of a new and better day. And just like the meaning of the title, these poems show hope. Hope that life will get better. That there is a bright light at the end of the burdens.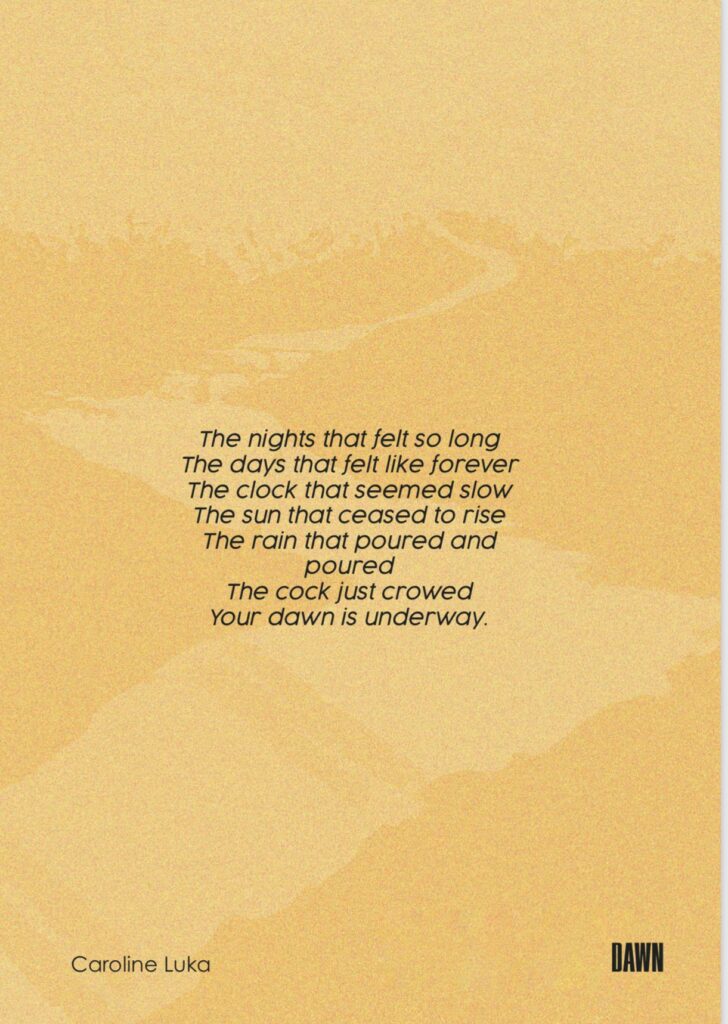 Not only is she learning to love herself more, but it is a reminder for her readers to do the same. A reminder to grow and be better than they were. And just like her, to allow to hurt but also heal.
Dawn: The Poetry Collection. My final thoughts….
I grew to love the collection way before it was released. Having been chosen as an early reader by the author.
Personally, it was touching how she was able to express her emotions so well, yet make it seem like she is expressing my own. It felt personal to me, like she had ripped my heart open and penned words straight from my bleeding soul.
It is emotionally balanced. Has moments of happiness, just as much as it has moments of sadness.
Probably my favorites were the elegies. The subtle tributes she made to her loved ones. They were beautiful words meshed well to express the pain of losing a loved one.
The colors and illustrations covering the whole book are greatly placed. The colors help in conveying the truest emotion of the poems, while the illustrations there to aid understanding the feeling.
This is poetry that truly never dies. Because it expresses emotions that many go through.
Have you bought the collection yet? Read it? What is your favorite poem so