Last December, I wrote about sexual harassment at the workplace during the 16 Days of Activism. During the time, I shared my experience with sexual harassment at the workplace, how I did not acknowledge it until when I decided to leave the job. Right after I saw the Advocacy theme for the #WinterABC challenge, I thought it only right to bring the topic back in talks. This time however, discussing more on the struggles that a minority meet everyday in Malawi.
In mid May, I was talking to Alinane on Twitter about the amount of harassment cases are hidden in a lot of Asian households in Malawi. During the talk, we agreed that a lot of domestic workers in the country have no knowledge of the laws that govern them. Thus, they are mistreated by their employers and allow them to get away with it. That, laced with the fear of unemployment, forces most to endure painful working conditions which if the government was to know of, would frown upon them.
Another case happen recently that encouraged me further to write about the topic. A video surfaced of an Indian, Adil Patel, a store keeper at KFC Lilongwe in a brawl with a female guard of the restaurant. The video is infuriating to watch, but I have attached it below:
For a better understanding of the issue, here is a statement done by Ministry of Labour on the issue: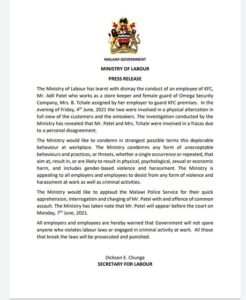 Thank God for social media, if not, this would have a story hidden and no justice taken. However, there are many stories that stay hidden in different companies, shops, and households. Not just by the Asian community in the country, but by our own countrymen as well.
issues of sexual harassment at the workplace
One of the biggest issues we harbor is sexual harassment. Again, many people who are unaware of the law and their rights are vindicated in many issues. Like I said earlier, most are scared to speak out because of the fear of the unknown. Or, as we said, the fear of being unemployed and not able to care for their families.
In March this year, a court ruled that Mota-Engil pay 'aggravated damages' to a female employee after she had continuously complained about the sexual harassment she was receiving from her supervisor. The judgment also revealed that the country had no policies of the set actions to be undertaken when such claims are reported. Mota-Engil is a big company in Malawi.
As many were celebrating the victory of such a judgment, April brought revelations of sexual misconduct by former director-general of Malawi Broadcasting Corporation (MBC), the state broadcaster, Aubrey Sumbuleta. His crimes date back as far as 1997, abuse of office, and sexual assault dating from 2010 to 2014.
However, like I keep continuously stating, there are cases being hidden. During the same time, there was a person on Twitter who tweeted something in these lines:
What happens after your maid refuses to have sex with you?
In disgust, I saw people give him ideas to fire the maid because she had not respected him as a boss. That tells you that we are far from finishing this war. But the gods, it seems, were not done raging me. Last month, some women I know revealed that their 'Mama', a term often used to describe a lot of Asian female bosses, had gone on a row of lifting their skirts to see the undergarments they had on because her underwear had gone missing.
I cannot start to describe the pain I felt. All these, women in the minority group, receiving more or less $50 per month, being mistreated because they did not know their rights. Again, the gods were not done with me, I happen to eavesdrop on a conversation of an 'expatriate' from India telling his Malawian counterparts of the 'deal' he made with his maid. Since his wife is back in his country, his asked his maid to give him hand-jobs to help his sexual cravings. At the end of the service, she gets paid extra.
These are all stories being hidden in these houses. What did the woman who was undressed say when I suggested she takes her story to the court? She rejected it, saying she feared losing her job and not being able to feed her children.
conclusion
It is up to everyone who has the knowledge of the law to share it with those that do not. Help them understand what their rights are. The obligations their employers are meant to upkeep as well as their own. They are a group of people that are unable to understand or be able to attain the information, so if you have a chance, share the little knowledge you have.
Also, assure them that their grievances can be solved. However, it is also time that the Ministry of Labour worked extra hard in making sure that the dissemination of such information is wide. So that everyone is at least knowledgeable of the Employment Act, the Gender Equality Act and the Sexual Harassment Policies that are in place.
Have more stories, share them in the comment section below. I would like to add them in my newsletter.