Chakwera's presidency is one of the most dramatic we have seen. After a year of presidency, many are starting to wonder if he was indeed the right choice for the job. It has been a year of expectations not being met, promises to fade, and lost hope. I wanted to take time to reflect on Chakwera's presidency and all that has happened within the year of Tonse Alliance leadership. Mind you, these are my opinions and should be respected as such.
To begin with, we have to look back at the tripartite elections that were held in 2019, where Prof. Peter Mutharika was declared the winner. This was the beginning of what most of us thought would be a political change. In July, then opposition parties Malawi Congress Party and United Transformation Movement would challenge the election result at the Constitutional Court. At the same time, the results birthed countrywide demonstrations like never before. These were demonstrations that showed that Malawians were fighting for their rights, and asking to be heard by those in power.
On the 3rd of February, 2020, the 2019 presidential results were annulled and Tonse Alliance was birthed. Tonse Alliance comprises of Malawi Congress Party (MCP) and United Transformation Movement (UTM), with the MCP president Chakwera as president of the Alliance. The Alliance went on to win the 20 June 2020 elections, an event most thought was the birth of a new political climate in the country. As a matter of fact, I once wrote that events that had taken place between 2019 and 2020 as events post-democracy that was cementing Malawi's democracy.
A year and a month later, I would like to retract that statement. Malawians may have fought to cement the democracy they fought for in 1993, but the leaders put in place after the fight has worked hard to undo it all. This is what the rest of the text will concentrate on.
Mediocre Leadership
Moments after Chakwera and Chilima took office, there were a few red flags that should have warned us of what was to come. However, the backing was that they were new in power and should be given time to settle in. The first red flag I noted was with the first appointments and the cabinet.
The issue was nepotism. The cabinet comprised of a husband and wife, uncle and niece, brother and sister in law, and more that seemed to be appeased. TImothy Mtambo for example was an appointment that screamed appeasement due to his role in the demonstrations. The director of communications at the State House just so happened to be the president's son-in-law. The excuse was, the cabinet was temporary and would be reshuffled soon.
News flash, it has been a year and a month and the said cabinet has not been reshuffled yet. Promises of reshuffling were done in October 2020 and May 2021, but it never saw the light of the day. Two ministers in the cabinet unfortunately passed in January 2021 due to Covid-19, and no replacement has been done months later. A minister was fired in April 2021, and again, no replacement.
more nepotism
The reason why we say to look for red flags and abort mission immediately is, it is easy for something to become of habit. That is the case with the issue of nepotism.
Some mere days ago, Malawians were shocked to hear that Chakwera's daughter had been given diplomatic duties. Social media instantly was flooded with agony, but not everyone was ready to be ridiculed. State House backed the hiring of Violet Chakwera by saying that she was a well-qualified individual who was suitable for the role.
The very same people that spent their campaign days ridiculing Prof. Peter Mutharika for his nepotistic ways, had fallen under the same practice. The only difference is, they expected everyone to just accept it and keep it moving.
of unneccesary spending
Just as we were all trying to wrap our news around the hiring of Chakwera's daughter, we came to find out that there was more going on. The president is to travel to the United Kingdom for a summit on education. In their statement, he cannot attend to it virtually, he has to physically travel. He will be travelling with 10 delegates, one of them being his daughter who has been given diplomatic duties.
Other reports say that the Minister of Foreign Affairs backed the decision, citing bad internet connection in Malawi. If this is true, we all must take a moment to have a hearty laugh. When Malawians on different social media platforms were campaigning for Internet Service Providers to provide affordable internet, they were also asking for reliable internet. People asked for state intervention through Malawi Communications Regulations Authority and the Ministry of Information. All that we had was some poor price drops and life moved on.
So, maybe it is time that government realised the importance of having infrastructures that are reliable at all times.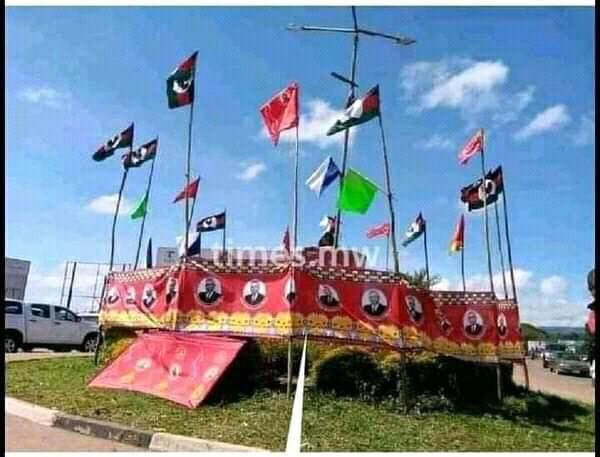 On the issue of spending, I am reminded of the Independence Day Celebrations on July 6. When government had budgeted to spend K244 million, but after receiving backlash, slashed it down to K50 million. What Malawians got were ridiculous decorations in major cities' roundabouts, and a memorations at Bingu National Stadium. This was amid Covid cases rises.
A few days later, government announced new covid restrictions to help combat the thirdwave. However, one could only think that the restrictions which were meant to be done before the celebrations were only halted to accommodate the expenditure they had planned for.
of reports unreleased
It is so frustrating when one promises to release reports but fails to. Even more frustrating when reasons are not given for the failure. However, within the year of Chakwera's presidency, Malawians have gotten accustomed to this lie.
Like the case of the promised cabinet reshuffle, reports are also never released. Like bullying, you have a Minister tell the press asking if they were ever told when the reports would be published. You can only sigh.
My Thoughts
In 2019, when were so ready to remove Democratic Progressive Party from leadership, we became so united. While we shared the same sentiments with the Tonse Alliance leaders, however, what we did not realise was that they were hell bent on only removing DPP from power without having a plausible plan. Like in the era of Bakili Muluzi, Malawians were sweet talked and told sweet nothings during the campaign season. Now that Tonse Alliance is in power, we see that the country has yet again not taken any route of progression.
While leaders think Malawians are too easy to fool, there is a bit of redemption. Malawians have become just a bit wiser when it comes to preserving their democratic rights. People are showing signs of no longer wanting the bare minimum, they expect the government to produce results. But maybe I am wrong in my taking.
At the same time, I find it funny that the current government expects people to just accept breadcrumps and move along. When during the campaign, they promised something bigger and gave the people hunger for it. More so, we went through five years of Peter Mutharika, when things had to be accepted and no questions asked. We have seen and experienced the bare minimum, we want more.
Unfortunately, there is no opposition side that seems to want to step up and take strides as these men make a mockery of themselves. There seems to be no hope at the moment. All we can do is pray for a better tomorrow.
What are your thoughts? Comment down below