The current trending topics on Facebook and Twitter in Malawi are #ReduceDataCost, #Affordable Internet, and #DataMustFall. This comes after years of hefty internet prices being paid by consumers. And while this is trending, some still do not understand why Malawians are asking for affordable internet. So, this is just to share a little information that people should take into account.
A little background……
Complaints of high internet charges have always been there. If people are not complaining about the prices, then it is the durability of internet bundles by our biggest mobile operators, Airtel and TNM.
Now, according to the statistics from Data Portal, it shows that Malawi has about 8.6 million mobile connections and 2.8 million internet users. Independent study has shown that at least 700 thousand Malawians are active on social media, while fixed broadband users are just 15 thousand. This is against a population of 19 million according to Worldometers.
The average price one is expected to pay for a 1GB is $27. The easiest explanation on my sleeve is this: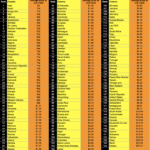 Internet is charged at K15/MB and K25/MB by Airtel and TNM respectively. Mind you, this is Pay As You Go (PAYG). Averagely, one is expected to purchase 1GB at K20,000. This is ridiculously high for a country that has most of its citizens surviving on K700 ($1) per day. More so, for a country with a minimum monthly wage of K45000 (70).
But we have data bundles….
Indeed we do. But lowering the internet PAYG prices would affect the prices of these said prices. Currently, 1GB/month is K3500 which is high. In an alternative world, if our PAYG prices were K5/MB, that same 1GB/month could go as low as K600 – K1000.
On top of that, these are bundles that are highly suspicious. We have gotten to questioning the volume of the said 1GB that we purchase. They are not durable at all. Apart from that, one question is why do these said bundles expire?
MACRA and its responsibility
The Malawi Communications Regulatory Authority's role is to be a regulator in the industry. Their role is to make sure they create a balance for both consumers and service providers. But lately, it seems they have been very silent in making sure both parties find their relationship beneficial. Which has led us to where we are now.
One could wonder if the regulator has been captured. Regulatory capture means the government agency authorized to overlook an industry has been dominated by the businesses within the industry. This could be due to corruption or the existence of inefficiencies within the agency leading to their failure to regulate the industry. Why one would think MACRA has been captured is based on their disheartening silence of the consumer complaints that date as back as 5 years ago.
I have gotten to learn that as a regulator, they are supposed to conduct annual pricing reviews to make sure not much burden is being passed down to consumers. But how can one believe that happens when just a year ago, Airtel complained about losing a lot of money to their infrastructure due to the many fiber cuts. The same year, customers started crying about their disappearing bundles. This year, Airtel posts a 588% profit. There seems to be foul play.
Makes one believe that the authority is not only inefficient but also ineffective.
Why the target is on Airtel and TNM
The two companies combined have a market share of more than 75%. This means they are the biggest mobile operators in the country. In a way, they two have monopolized the industry, which has led to setting trends that are followed.
Like I also stated before, fixed broadband consumers are only about 15000 nationwide, equating to a 0.53% share in the industry. This means that the likes of Skyband, Afrimax, Globe Internet, and more are left to scramble for these customers while still making exorbitant profits.
But like they say, in order to defeat the enemy, you start with the Goliath of the group.
To conclude….
We need to fight more for affordable internet. The world is now forming a village that we are being left out o due to the high internet tariffs. And these has effects on many things:
During this global pandemic where education has gone online, many students have been left idle due to the lack of internet access. This further widens the existing gap of the rich and poor
Our entertainment industry is still failing to grow because consumers cannot access online platforms. A good example is the nonexistence of artists on streaming sites because their target audiences cannot afford to stream
less online businesses and more
So, if you are apart of the fight for affordable internet in Malawi, feel proud.
Leave your thoughts below, I'll be happy to read.