As we fight for the end of gender based violence, it is important to also condemn the evil within gbv gatekeepers. This is the third day of #16DaysofActivism and I thought to speak on this. At the end of this, I want each of us to ask oneself if we've ever been GBV gatekeepers.
Look around you, the environment you are in. Around you, there are perpetrators of GBV and GBV gatekeepers. Be it at work, in your friendship circles etc. You will find them there. However, the question is always "What are you?"
GBV gatekeepers are found everywhere. Even in the rallies that aim at putting a stand on GBV, they are there. The bittersweet thing is they carry placards that say "Speak Out" when they do not do it themselves.
Who is a GBV Gatekeeper?
Let me expound more on this. GBV gatekeepers are those that witness abuse but do nothing about it. They will witness someone being abused but will choose to look away. This can be for many reasons, like "minding their own business."
A great example is if you saw you're friend being beaten by their partner but chose to do nothing.
GBV gatekeepers are people that become silencers for the victims. A mother who warns her child not to tell anyone that she's been raped by her father is a gatekeeper. Thus, they become passionate defenders of the abuse.
There can't be that many GBV gatekeepers….
Well, I hate to break it to you that there are actually many of them. Parents, friends, colleagues and many more can be gatekeepers. On this, let me give an example of the recent gatekeepers in Malawi.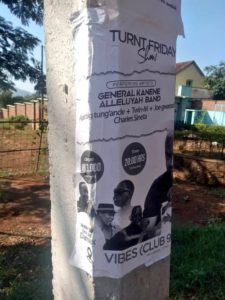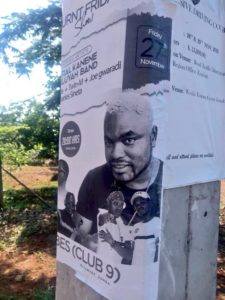 The poster above is for Zambian renowned musician General Kanene. In 2014, General Kanene was convicted for raping a 14 year old. He was pardoned a year later, and like a slap to GBV efforts, was made an ambassador against sexual violence. After his release, he has been involved in two cases of violence against women.
This known rapist has been a frequent in the Malawian entertainment scene. This means that the organisers and promoters of the show, regardless of knowing that he is a rapist, they still put him on. In this case, the organisers automatically become GBV gatekeepers. Any person who also patronises the event also is a GBV gatekeeper.
What we also should know is that our entertainment industry is filled with many of them. And they are known. But no one dares speak a word against them, thus gatekeeping the acts of violence.
Also important to read:
Just how bad is GBV gatekeeping
To make it easy, GBV gatekeepers erase all the efforts made to eradicate gender based violence. When one chooses to not speak out when they witness violence or abuse, it becomes a laugh in the face for those working tirelessly for the cause.
Anyone who is a gatekeepers is an ally of the abuser. They help the abuser to repeatedly continue abusing their victims. Gatekeepers give them a protective shell and surety that no harm would be done to them. They vindicate the victims and like I said, silence them from speaking up.
Not only is bad for women and children. It is just as bad for men who have experienced abuse.
So, if you have a friend who is a perpetrator, you are a gatekeeper. If you are the parent that has silenced your child….. A boss that has advised your junior to not speak out…. Or promoter that hirers a rapist…..
If you are that and more, you are a GBV gatekeeper.
We will never combat the fight against gender based violence by condemning the perpetrators alone. It is time we condemn the GBV gatekeepers.
I say this because, GBV gatekeepers are like moles that make a place unpleasant. Condemning them and holding them accountable for their actions would help in the fight.
If you are one, it is time you start thinking of the problem you are supporting.